Welcome to Cocktail Mixing Master's Smoothie Maker guide
Here we look at tips for getting the most out of your blender and how to choose the right one
Your smoothie maker should be as reliable as anything. The last thing you want is the smoothie blender giving in on you early in the morning when you are preparing your favorite smoothie.
Smoothie makers double as cocktail blenders, so if you are looking for information on cocktail blenders, you are at the right place.
---
Click here
to see our wide selection of
smoothie recipes
- fruit, health, low carb, diet, breakfast and protein smoothies. We also have delicious
milkshake recipes
and
juice recipes
.
---
With literally hundreds - if not thousands – of blenders available on the market, it can be difficult to choose which one to buy. Lower down the page we review some good ones.
When selecting one, there are a number of things you need to figure out and look for:
Ø Its use – is it for home or commercial use, like in a cocktail bar or restaurant. If you are going to use your smoothie maker commercially, it is likely to work much harder and be handled much rougher. Therefore, invest in a blender that is intended for commercial use. They are more expensive, but you will not have to replace it so often.
Ø How often you are going to use your smoothie maker. The more often you plan to use it, the better quality it needs to be. Quality is often indicated by the price – the more expensive the better the quality – but not always. Make sure you read the reviews before deciding.
Ø The power, indicated by the Watts (W). This is generally between 300 W and 800 W, with 800 W being the strongest. The stronger the blender, the easier it will blend and the easier it is too works with. Particularly if you often blend solid items like hard fruits and ice.
Ø The size of the jug. These generally varies between 0.5l / 18 Oz. and 2l / 70 Oz. If you make single servings a 0.5l or 1l should do, otherwise go for a 1.5l or 2l if you sometimes make 2 or more servings at a time.
Ø The color or finish. Blenders come in a range of color and finishes. If you going to display it as a permanent feature in your kitchen or home bar, make sure the color or finish fits in.
Ø The price. Always important. You can get a great non-commercial model for around US$35.
Hand-held blenders do not work well for making smoothies, so we do not recommend them.
---
Tips for using your smoothie maker
Ø Put the liquids into the blender first so that they lie at the bottom and the solid ingredients thereafter.
Ø When the smoothie recipes requires ice to be added, we suggest you use crushed ice in order to preserve the blades of your smoothie blender for longer.
Ø Never blend dry ingredients like nuts and spices only – make sure there are wet ingredients like fruit or juice as well before blending.
Ø Do not run the blender when it is empty – you might damage the motor.
Ø Do not store anything in the smoothie maker when not in use. Ø Do not overfill the blender and make sure the lid is secure before turning it on.
Ø Do not run the smoothie maker for more than 60 seconds at a time. Let it cool down for a minute or two before using it again.
Ø Make sure to clean the blender properly after use and clean it shortly after you used it – this will ensure a longer life for your blender
Ø Make sure you read and understand the instruction manual of any blender before using it.
---
See our
Smoothie Recipes Guide
for more tips on making smoothies and a range of
great smoothie recipes
.
---
Here are some reviews on our favorite recommended blenders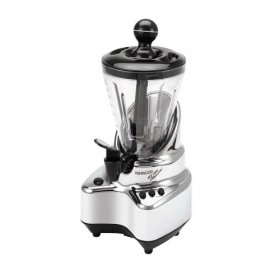 Kenwood S206
Use Home
Power 450 W
Size of jug 1.5 l / 53 oz.
Speed 2 speed
Finishes Stainless steel
This is the original "New York" style smoothie maker. Cocktail Mixing Master personally uses this one and find it a great smoothie maker. It is big and strong enough to blend just about anything you want to put in your smoothie. Looks very nice too.
This device comes highly recommended!
---
Kenwood S207
Use Home or light commercial
Power 700 W
Size of jug 2 l / 70 oz.
Speed 2 speed
Finishes Brushed aluminum
This is the big brother of the S206, in case you are looking for something slightly bigger and stronger. Also a highly recommended device.
---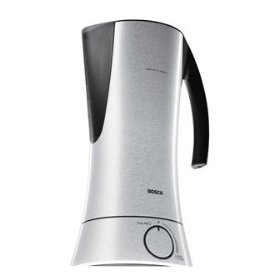 Bosch MMB-9110UC Porsche Designer Series
Use Home
Power 450 W
Size of jug 1.5 l / 53 oz.
Speed Mutiple
Finishes Brushed aluminum
This is probably the best-looking model on the market. Little wonder because as the name suggests, it was designed by Porsche. What makes it great is that the jug is dish washer safe – something which is not too common in the world of smoothie makers.
Although it's a very good-looking machine, some uses have complained about the apparent lack of power of the motor.
---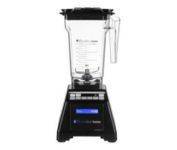 Blendtec TB-621 BHM
Use Home Power 1 500 W Size of jug 1.8 l / 64 oz. Speed 6 Finishes Black and white
This is hard core blender that can also be used for grain mill, juicer, bread machine, ice-cream maker, smoothie maker, blender, milkshake maker, coffee grinder, or ice crusher. Although it's officially a home blender, it can be used commercially.
It has an electronic touch pad with pre-programmed functions, which it very helpful.
---
Click here to submit a smoothie maker review.
---
Back to the top of the Smoothie Maker Guide Back to the Smoothie Recipes Guide (get your hands on delicious free smoothie recipes)