Welcome to the Outdoor Home Bars Guide
Outdoor home bars are ideal for entertaining outside, by the pool or on a patio. It is the perfect place for friends and family to chill out and enjoy a few drinks.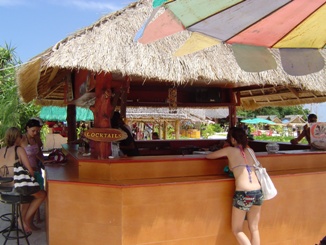 ---
See our
Cocktail Recipes Guide
for cool cocktail recipes for enjoying at your bar.
---
There is a variety of outdoor bars available, both permanent and portable. In the case of a permanent bar, it is important that you protect your bar form the elements when not is use.
You should ensure it is fixed to the ground and stands solid, so that it will not fall over in heavy winds. Also, make sure you have a durable cover for the bar to protect it from the sun and rain and in this way extends its lifetime.
Styles of outdoor home bars that work well are rustic and tiki bars as these are typically suited for the outdoor elements like sun shine and wind and rain. (See our home bar décor guide for more ideas on bar decorations.)
---
Don't miss our
home bar guide
. We explore great ideas on
home bar design and construction
,
building a home bar
and
home bar furniture
.
---
---
Back to the top of Outdoor Home Bars Back to the Home Bars Guide