Custom Search
Welcome to the Cocktail Shaker Guide
Here we take an in-depth look at cocktail shakers. We look at the various types of shakers available. We also recommend some cocktail shakers you can conveneintly get from Amazon.com.
A cocktail shaker is arguably one of the most important pieces of cocktail bar equipment you should have in your bar. (Click here the go to our Cocktail Bar Equipment Guide for more information on all the equipment and barware you can have in your bar.)
USING YOUR COCKTAIL SHAKER
It is of course used to shake or stir cocktails. Stirring is often used in the case of clear cocktail ingredients – like gin and vodka - as shaking causes the ingredients to become cloudy.
Cocktail recipes generally require you to shake the ingredients with ice cubes or crushed ice. The ice goes in first. You can use a jigger (or measure) to pour the correct amount of each ingredient in the shaker. Shaking with ice allows the cocktail ingredients to chill and dilute slightly and mix well together to achieve the right taste for the cocktail.
You should shake the cocktail for anything between 10 and 20 seconds and even longer if you like. Use fresh ice for the cocktail itself and discard the ice used for shaking. Don't use the same ice again. Rinse the shaker well before preparing the next cocktail.
---
A cocktail shaker makes for a
great gift
. Visit our
Bar Store
for a wide selection of
a wide selection of cocktail shakers
and
great gift ideas
.
---
In busy cocktail bars you will find many cocktail shakers of different kinds, so let's look at the most popular cocktail shakers available.
European Cocktail Shaker
Also known as a cobbler cocktail shaker. It has a cap and built-in strainer which makes it very convenient for use. The cap can often be used as a measure for spirits or other liquids. This is likely the most common type of cocktail and is usually made of aluminum.
You also get glass varieties as well, sometimes with (cocktail recipes with measurements printed on them.
Boston Cocktail Shaker
The boston cocktail shaker does the same thing as the cobbler shaker, but looks and works slightly different. It consist of two cone-shapes parts – metal and a glass – with the glass part fitting into the shaker.
Shaking with this type of shaker is similar to shaking with a cobbler. Instead of using a cap to close the shaker, you tightly fit the two cones onto one another before shaking.
One does need to be more careful than with a cobbler shaker. Put the ingredients in the glass cone, put the metal cone over it and give it a slight nudge to seal the two cones.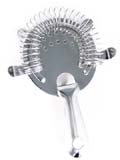 Put one hand on the top and one on the bottom and shake. Ensure the glass cone is always at the top when shaking. After shaking, with the metal cone in hand, give it a tap on the side to break the seal of the two cones.
Straining is done with a separate strainer (pictured left) that fits over the glass. Experienced bartenders may strain by just separating the two cones slightly.
Bartenders often shake with a metal bar glass and any other glass that fits into it. You don't have to stick to a proper shaker.
Other Cocktail Shakers
There are various other shakers, including French cocktail shakers (similar to the "Boston"). You might also come across cocktail shakers in various designs and shapes, like bullets, penguins and zeppelins.
Shakers do come in various sizes. Cocktail Mixing Master recommends that you do not go for a shaker with a volume of less than 500ml / 18 Oz. A shaker of this volume easily mixes up to 2 or 3 cocktails. As professional bartender, you might want to go bigger when you frequently make larger numbers of the same cocktail.
---
Custom Search
Go to the top of the Cocktail Shaker Guide Go to the Bartending Guide Go to the Cocktail Bar Equipment Guide Go to Cocktail Mixing Master's Home Page Go to the Cocktail Mixing Master Bar Store