Custom Search
Welcome to the Cocktail Bar Equipment Guide
Here you will find all the various cocktail bar equipment and barware – essential and non-essential – you can have in your bar.
You don't need ALL the right cocktail bar equipment and barware to make perfect cocktails, it just makes it easier.
You probably have most of the bartending equipment you need somewhere in your kitchen already. You can use ordinary kitchen utensils and containers to make almost all cocktails. For example, any jar with a proper fitting lid can be used as a cocktail shaker.
If you are a pro, or want to make a hobby of cocktail mixing and take it a bit more seriously, the items below will give you a lot more credibility and make your job behind the bar easy and enjoyable.
---
TIP: Excellent prices
on a wide range of products.Visit Cocktail Mixing Master's very own
Bar Store
for all your bar equipment needs. Shipping across the globe!
---
Essential equipment include:
Ø a cocktail shaker (or Boston cocktail shaker)
Ø a measure (or jigger)
Ø a corkscrew
If you do invest in any of these, we suggest you take out the extra bucks and buy items of decent quality. You will be able to judge an item's quality by closely examining and handling it. Always retain the necessary invoices and documents from the merchant in case you need to return an item that breaks.


---
Let's look at the bartending equipment in more detail:


Cocktail shaker
Usually made of aluminium. A variant is the the Boston cocktail shaker (see below) which consists of a glass that fits into an aluminum container. Click here
to buy cocktail shakers from Amazon.com.


Boston cocktail shaker. Click here
to buy a boston cocktail shaker from Amazon.com.






Bar glass with strainer
This is used to strain drinks containing ice and/or other ingredients used in the mixing stage but does not eventually go into the drink, for example pieces of fruit. Buy this as a set to ensure the strainer fits the glass. (Strainer pictured on the left.)
This is not an essential piece of equipment for the beginner mixologist if you have a cocktail shaker with a built in strainer and can double as a bar glass. Click here
to buy cocktail glasses from Amazon.com.
---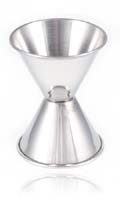 Measure (aka tot measures and jiggers)
This is an important piece of equipment. Most of the cocktail recipes are expressed in relative measures. For example "1 part vodka, 3 parts orange juice". It is important to mix your drinks with the ingredients in more or less the correct proportions. However, do not be afraid to experiment with proportions. Click here
to buy jiggers from Amazon.com.
A single measure piece should be used for each drink. This of course can be any container of any size, for example a shot glass. Typical jiggers come in 25 ml (1 Oz.), 50 ml (2 Oz.) and 100 ml (4 Oz.) sizes. It's advisable to have at least two – a small one and a big one, but it's not essential.
One also gets optics. These are bottle dispensers which measure off tots but pressing a glass up against it (see below). You will have seen these in most bars. Click here
to buy bottle dispensers from Amazon.com
---
Corkscrew
This is possible the item of which the most variations are available. Because of the hard work a corkscrew performs (a cork sits very tightly in a bottle!), you should have a good quality cork screw that does it's job without too much effort required from you.
Some examples available include:
Ø Screw pull
Ø Waiter's friend. Often carried around by waiters because it's small and compact.
Ø Wing corkscrew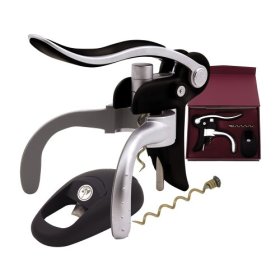 Ø Hand-held lever corkscrew. This is a big instrument, but makes light work of pulling corks. A Cocktail Mixing Master favorite (see picture right).

Ø Counter-mounted or wall-mounted lever cork screws. Nice to have, but it should not be your only cork screw. It works very well, but can obviously not be carried around and therefore makes it a bit impractical.
Click here
to buy cork screws from Amazon.com.
---
TIP: If the cork sits very tightly and you struggle to get it out, hold the neck of the bottle in warm water for a minute. This will let the neck expand slightly and the cork should come out more easily.
---

Ice crusher
Many cocktails are prepared and served with crushed ice, for example the Margarita. This is a nice-to-have item, really. You can make crushed ice using a hammer on a bag of ice cubes. Just be careful when you do it this way. Click here
to buy ice crushers from Amazon.com.
---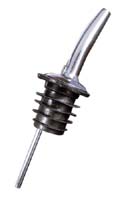 Pourers
We consider this an important but not essential piece of equipment. There are two kinds:
Ø Build in measure – it has a little metal ball that measures a tot (25ml / 1 Oz.) each time it is used. The measurements are sometimes difficult to get accurate.
Ø No built in measure. You will likely use a measure (jigger) anyway, so you don't need a built in measure. Seasoned mixologists use counting to measure – for example, 3 counts represent a tot, 6 counts 2 tots, etc. With a bit of practice you can measure this way quite accurately.
Do make sure to calibrate the pourer first. In other words, measure how many counts it take to fill a tot (25 ml / 1 Oz.). Click here
to buy pourers from Amazon.com.
---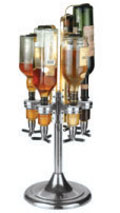 Bottle dispensers (or optics)
There are many types: wall-mounted, counter-mounted, free-standing, etc. Not absolutely essential, but it makes pouring ingredients easier, particularly if the bar is busy. It will also give your bar that "bar" look. Click here
to buy bottle dispensers from Amazon.com.
---
Sharp knife and cutting board
For cutting fruit and decorations for your drinks. Can also be used for self-defence if necessary. ;-)

Ice bucket
There are two general types: The metal version, which looks very nice and the insulated plastic version which keeps your ice cold for longer. We recommend the latter for hot climates.
Ice machine
A relatively expensive piece of equipment that takes up a lot of space. Not practical if you are either budget conscience or have limited space. Many fridges come with built in ice and water dispensers. This is something to consider if you are looking to buy a new fridge. Buy ice machines from Amazon.com
.
---
OTHER BARTENDING ACCESORIES INCLUDE:
Ice tongs or ice spade
Bottle opener (for beer and soda bottles)
Water pitcher
Bar spoon
Often used in the mixing of drinks, where the cocktail recipe requires you to "stir". Also a nice-to-have item. Any long teaspoon can be used in stead.
Can opener
Bottle sealers
Juice squeezer
Electric cocktail blender
This is nice to have but the electric versions can be expensive. See our smoothie maker guide for advice of cocktail blenders. Buy blenders from Amazon.com
.
Serving tray
Cloths
Bar towels
Wiping cloths
Kitchen paper
---
Keep your bar organized so that the equipment is easy to access. That pieces of equipment you use the most, must be the easiest to access. Your measure and cocktail shaker should be close by.
A few hours spent behind the bar will quickly guide you to where the best place for each item is.
---
TIP: Excellent prices
on a wide range of products.Visit Cocktail Mixing Master's very own
Bar Store
for all your bar equipment needs. Shipping across the globe!
---
---
Custom Search
Back to the Bartending Guide from the Cocktail Bar Equipment Guide