Custom Search
Welcome to the Cocktail Guide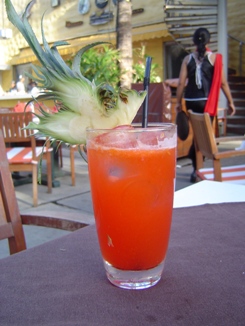 This cocktail guide is intended to give you and overview of cocktails, cocktail mixing and bartending. While there are many books and internet sites on cocktails, it can be daunting to navigate your way through them to get the information you are looking for. Cocktail Mixing Master makes this easy by summarising the most important things you need to know, right here.
---
TIP:
Click on the
underlined links
to visit pages with related information futher to this cocktail guide.
---
Let's firstly look at the equipment you require to mix cocktails
Cocktails are of course mixed (alcoholic) drinks – usually colourful with interesting garnish to decorate it.
A cocktail shaker is the first important tool you require. If you do not have a real cocktail shaker, any container of at least 500ml / 18 Oz. with a sealable lid will do. You will also require a measure (sometimes called a jigger) to measure the cocktail ingredients.
The are many other cocktail bar equipment available, but you do necessarily have to have all of these to make cocktails.
Also have a look at our Cocktail Glass Guide for the different types of cocktail glasses. Chances are you have a number of these glasses already. What's more, you can make your cocktails in any glass you like. There are no hard and fast rules when it comes to cocktail mixing.
Next we look at cocktail ingredients
Cocktails are made with a variety of alcoholic ingredients including brandy, gin, vodka and whiskey. Cocktails are also made with beer, rum, absinthe and tequila.
Famous and favourite cocktails include Bloody Mary (vodka), Martini> (gin) and Pina Colada (rum).
You can also make non-alcoholic_cocktails for children, drivers and pregnant ladies. Then there are also mixed drinks - also mixed like cocktails, but usually with less ingredients and simpler.
If you are planning a cocktail party, first study the recipes to decide what you might like. Identify 5 or 6 cocktails you are going to make and try to let the ingredients overlap to some extent so that you don't have to buy a huge amount of ingredients. Alternatively, let each guest bring a bottle (you decide and inform them upfront, otherwise you end with 10 bottles tequila and nothing else) or even all the ingredients to make one specific cocktail.
The idea is to experiment – see that the cocktail recipes as a guide from which you can deviate freely. Also see our shooter recipes if you are into short drinks and shots.
Cocktail Mixing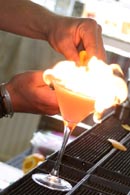 Apart from the cocktail ingredients you require a good supply of ice. Do not use the ice you shake the cocktail with to drink and always shake with fresh ice. At least, this is cocktail etiquette.
There are various techniques used in cocktail mixing like shaking, stirring, muddling, blending, building, floating and layering. Our the extensive Cocktail Mixing Guide explain these in more details.
Once the cocktails are mixed, you can the garnish them with fruit, flowers, cherries, olives and whatever you can lay your hands on. We prefer garnish that is edible to plastic decorations. See our Cocktail Garnish Guide for all and more on cocktail garnish.
---
You are welcome to navigate Cocktail Mixing Master for information on cocktails – please visit our site map.
If you are looking for cocktails glasses and bartending equipment, please visit The Cocktail Mixing Master Bar Store.
---
Custom Search

Back to the top of the Cocktail Guide

Go to the Bartending Guide from the Cocktail Guide

Go to the Cocktail Recipes Guide